The Dasmesh Punjabi School core values are an important factor in the daily life of all the students but students often times need to be reminded what they are.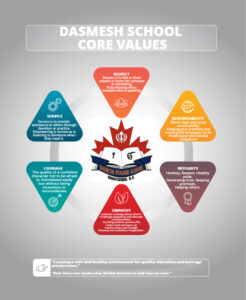 This infographic uses simple shapes and ideas to help solidify those values and still incorporate the school identity. I also included the schools motto and small graphics that represent those values somewhat.
This will allow students to quickly review and assess whether or not they are attaining a successful approach towards embodying those values.
Easel.ly: [ https://easel.ly/ ]